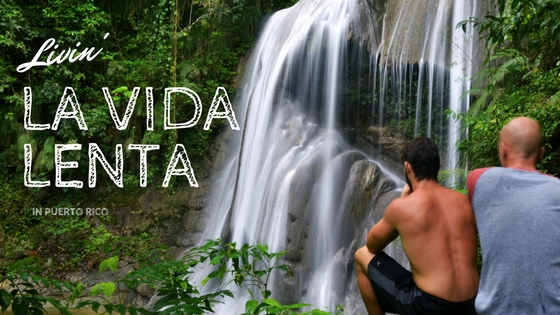 After two months of living in Rincón, Puerto Rico, the verdict is: island time is definitely a thing. La Vida Lenta – or the slow life – isn't just a bumper sticker quote hanging over a hammock slung between two trees. It's a full-on mindset and lifestyle. Equal parts frustrating and liberating for the tightly wound, type-A personality in me, I learned to lean in to the slower life.
After I had a quick panic attack that is.
Sitting on the upper Northwest corner of the island, Rincón ("corner"), is the exact opposite of the hustle and bustle that is San Juan. The high-rise hotels and luxury resorts haven't yet found West Coast. So, the beaches are dotted with local coffee shacks, restaurant trucks and surf shops instead. You'll find locals and transplanted "gringos" living alongside each other, barefoot and tan, just waiting for the next swell to come into town.
Puerto Rico as a whole is a beautiful, quirky, wonderful place. It's nothing like what you expect and somehow exactly what you need. For me, that was some alone time and renewed focus, with nature never far from reach. True to any Caribbean beach location, it allowed me to slow down and do a few off the beaten path independent adventures, too.
Yes, I checked out the Bioluminescent Bay in Fajardo (which is an experience I would highly recommend if you are there around a New Moon) and explored the ruins and cobblestone streets of Old San Juan. But some of the moments that really captured my heart and made me fall in love with the Island of Enchantment were much smaller. Stories of afternoons spent jumping off waterfalls in the jungle or just swinging in a hammock with a cheap (but cold – always cold) Medalla beer in hand are the ones I find myself telling over and over.
And now are the ones that I want to share with you.
The best part is that almost all of them required no previous planning or budgeting. I didn't even need a bike.
1. Explore the waters of an uninhabited island
When you're living on an island and you want to get away for a day, you just head to another island.
Most people know of Culebra and Vieques, but off of West Coast of Puerto Rico is a mysterious, uninhabited island called Desecheo. When the surf is low, you can book the hour-long boat ride to the island to snorkel or scuba in the crystal-clear waters. Because of ammunitions testing in the past, you aren't allowed to walk on its shores. But don't worry – there is plenty to see under the water.
I spotted not one, but two reef sharks (initially nerve-wracking, until the crew assured me they don't generally enjoy eating people), saw a sea turtle, dove off the roof of the boat and explored a sea cave.
This was also where my phone met its untimely end (don't trust those water-proof cases), but even still, I'd do it all again.
2. Hike through a jungle and a desert in the same day
In Puerto Rico, it takes very little effort to find yourself surrounded by a 360 view of saturated colors, with the sound of coqui frogs chirping all around you and a distant waterfall somewhere in the background. There is a surprising number of National Parks on the island, and they run the gamut from tropical rainforest (El Yunque) to desert (Susau).
All of the trails I set out on were clearly marked and I quickly learned someone could stay busy hiking the trails, ruins and beach coves for months. Grab a map, pick one and go. You won't be dissappointed.
3. Hunt for a waterfall and then….JUMP
The first time I asked a local how I get to the waterfall, he replied with: "Well, which one?"
I quickly found out that they are literally everywhere. Here are just three I checked out:
Gozalandia Falls: A more touristy waterfall that has a paved trail, wooden steps, two swimming holes and rope swing. If you've ever wanted to check "jump off a waterfall" off your bucket list, this is the place to do it.
Maricao: North of San Sebastian, the town itself is the Coffee Capital of Puerto Rico. The waterfall sits in the middle of the forest at the bottom of a dirt road. You have to wade up a cold mountain stream before coming to a clearing with two waterfalls.  The effort is repaid with no crowds and a fairy-tale like view of the river and countryside.
El Ultimo Brinco: Is a small waterfall just outside Rincón. Whether or not there is actually water there depends on the rain. Just be careful, it has that name – The Last Jump – for a reason!
4. Get a car and go for a cruise
If you are coming to the island, do yourself a huge favor and rent a car. Unfortunately, the public transport isn't quite on par with other countries. And the only way to see the island is up steep one-laned mountain roads.
Note: the roads may be single-lane, but the traffic is two-way. Just one of the charms of the island.
5. Or, you could rent an ATV for a day
I spent two hours riding through bamboo forests and along the open coastline by Domes Beach in Rincón. It was a blast. The routes overlap with some of the mountain bike trails and are well marked, so you won't get lost.
Plus, being on an island means you can cruise from the forest….
…to the beach, in a matter of minutes.
6. Make friends with the locals (animals, that is)
I can't help myself when I see a cute animal. They are my favorite. And there are a lot of them running free in Puerto Rico.
Like this horse that actually lives in a house:
Or this iguana just cruising the coastline:
 7. Wake up on an empty beach
I go a little stir-crazy if I don't sleep outside every once in a while. So, after a couple weeks, I couldn't help myself – a friend and I just found a beach trail and set up camp. There are a lot of designated campsites in Puerto Rico, but they require 15 days advance booking.
This was not that.
I was pleasantly surprised that the beach stayed empty all night and that I woke up to catch a rainbow with sunrise.
The two most important things to remember when wild camping is to be up and out in the morning and to leave no trace. Keep the beaches beautiful for others to enjoy them!
8. Go underground
The island has a massive cave system in Camuy Park. For some reason, my brain can't grasp the idea of underground caves on an island. But they are amazing.
If you want to feel really really small, take a guided tour in Rio Camuy Cave, enjoy the views from La Cueva Ventana, or hike to La Cueva Venta.
9. Peruse local art
Every Thursday, Rincón comes to life for the Art Walk.  As you walk through the streets and art tents, you'll find shirts, jewelry and art made from local sea glass, seeds and driftwood. If you are one for bringing home a souvenir, I'd grab one here.
After a few weeks of going to the art walk, I even felt inspired to hunt for my own sea glass and make necklaces.
10. Surf or SUP (Stand Up Paddleboard)
Life revolves around the ocean in Rincón, and there are some pretty serious waves to be caught. It is, after all, one of the main reasons people come to live there in the winter time. There was even a Corona Surf Competition and a SUP race while I was there.
11. End the day with a fresh coconut and a sunset
What's a Caribbean vacation without a beach day spent doing nothing?  I've never seen a sunset I didn't like. And I can't image a more quintessential way to end a day of island exploring than by relaxing and having one of Villa Cofresi's famous Pirata coconut drinks.
Rum never tasted so good.
---