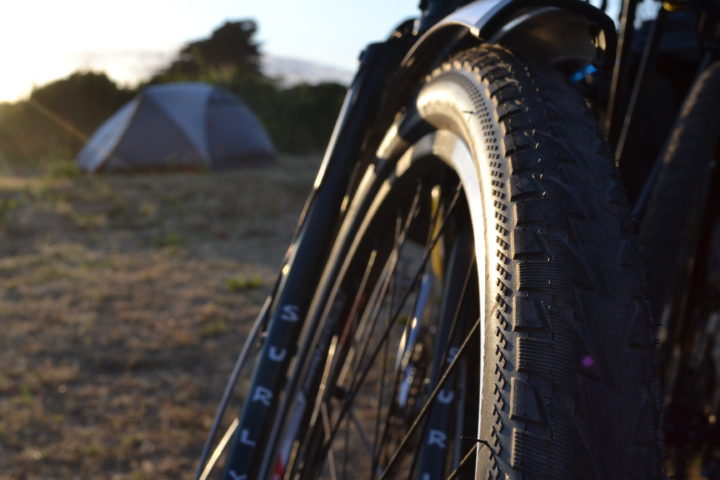 Categories
Camping
31 Nights. 31 Campsites.
I was skimming through Backpacker earlier this month, pulling out pictures I could use for my dream board (yes, I'm 6 months late getting that done, and yes, there are A LOT of pictures of camping and traveling on there), when I stumbled upon the editor's intro letter that challenged readers to sleep under the stars for 31 nights between May and September.
I instantly loved the idea because it encourages people to just get out in their tents – no matter how big or small of an adventure. And what could be more blissful than that?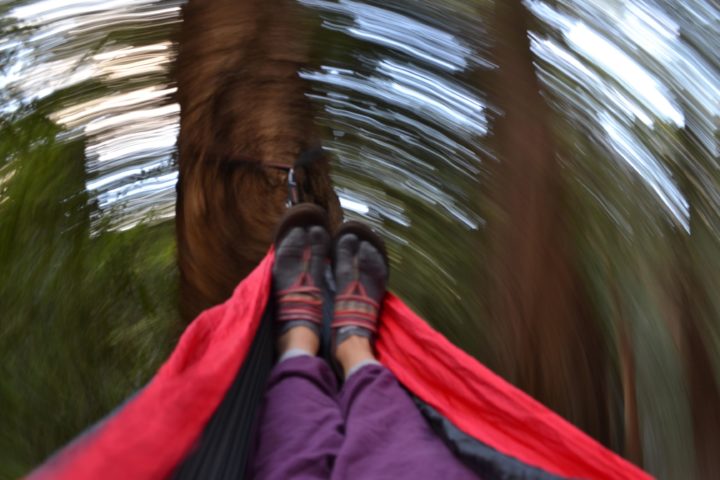 I also thought it would be a great way to kick off my bicycle tour down the West Coat that I took last month. So, challenge accepted.
I'm keeping my list of 31 campsites right here and updating regularly. Hopefully, it inspires you to join the challenge, and maybe you even get some inspiration for new places to check out yourself.
Disclaimer: Not all are between the months of May – September. Hey, I gave it a valiant effort and came up a bit short. The goal of the challenge was to encourage people to get out and enjoy camping in nature, and it that regard, it was a success.
Night 1: Butano State Park
This was the first stop on my West Coast tour and an hour out of the way (an hour each way, mind you). My knee was throbbing and my stomach was growling with hunger, so this was one of those detours where I was feeling every inch of the pavement. The struggle was forgotten the minute I set eyes on those towering redwoods, though…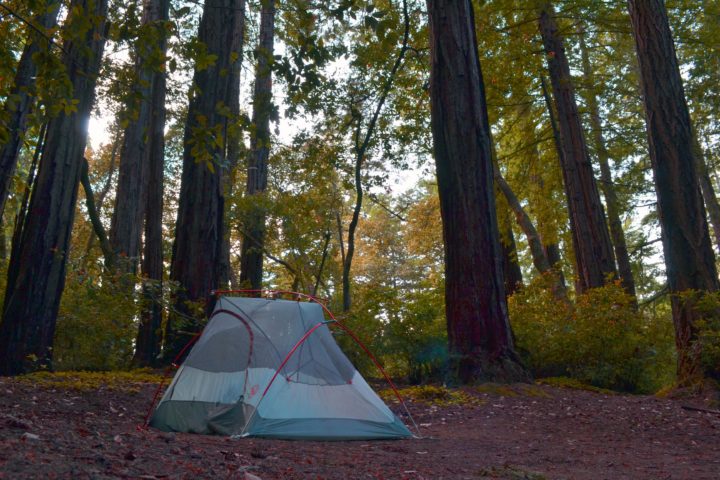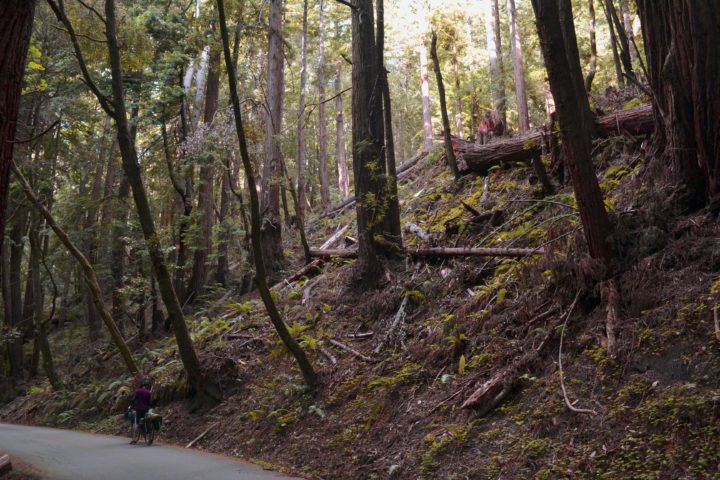 Night 2: Manresa State Park
We stumbled upon this gem by accident, because the hike or bike section was actually 2 miles further down the road. The woman at the check-in desk was none the wiser, though, and we managed to score a front row seat the West Coast sunset. What's more, that Golden Hour seemed to last all night.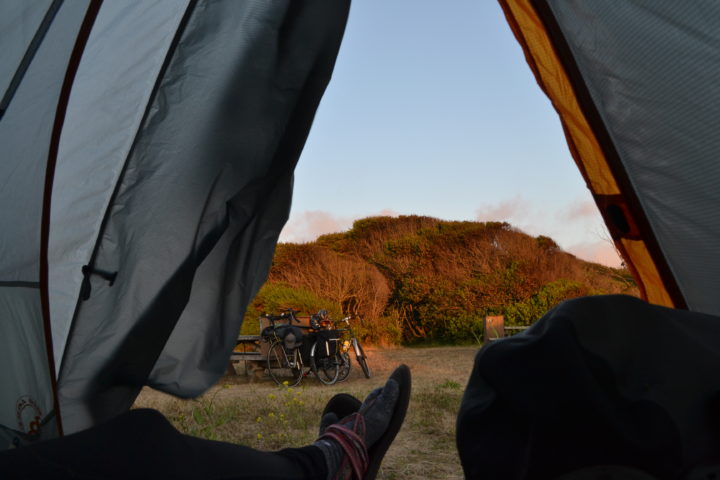 Night 3: Veteran's State Park
Perched at the top of a biiig hill right in the heart of Monterey is Veteran's Park. We learned about this local park from other cyclists on the road and pedaled in to find a hodge-podge of people doing some bicycle touring either way along the coast. I managed to meet up with some great people here – including two Canadian women that ended up surfing at my place a couple weeks later in San Diego.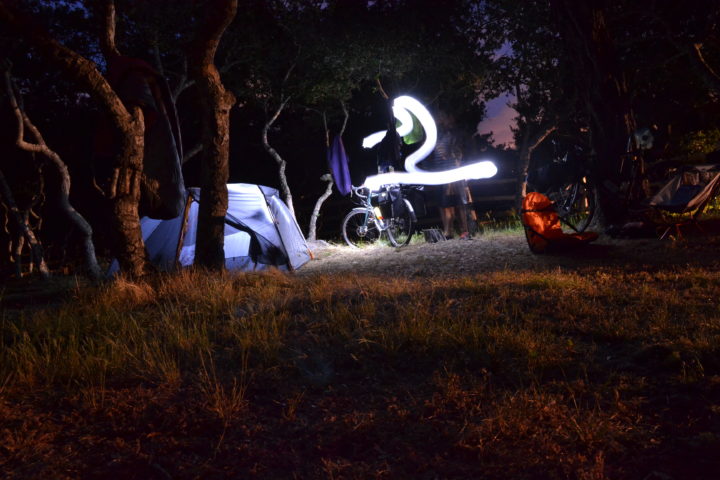 Night 4: Pfeiffer State Beach
Let me just say, Big Sur will knock your socks off and leave you breathless – from both the views and the climbs. I'd been looking forward to Pfeiffer since I pulled out of San Fran earlier that week, and it didn't disappoint. Our little tent found a spot nestled right between a clear, gurgling creek and a grove of redwoods. There was a bit more traffic in the tourist area, but I managed to ditch my panniers and head off-road to go rock hopping in the creek at sunset.
Night 5: San Simeon
This little park is just south of Hearst Castle in a winding valley area of Highway 101. A nice reprieve from the ups and downs of the past few days and a makeshift little village of tents and bicycles from the people we'd been pseudo-riding with since Monterey.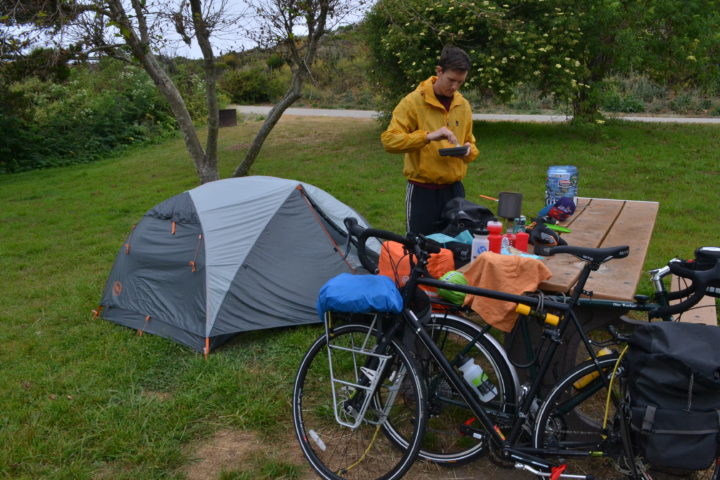 Night 6: Oceano Dunes
Instead of forging on at a break-neck speed to Santa Barbara, we decided to stake down the tent one last time and call the trip quits in Oceano. The end of a great tour is always bitter sweet, but I took the day to relax and soak in every last moment of road life. Crepes were had – followed by a visit to the Monarch Butterly Grove (yes, that's a thing) – before hopping onto the Coaster train and settling in for the ride home.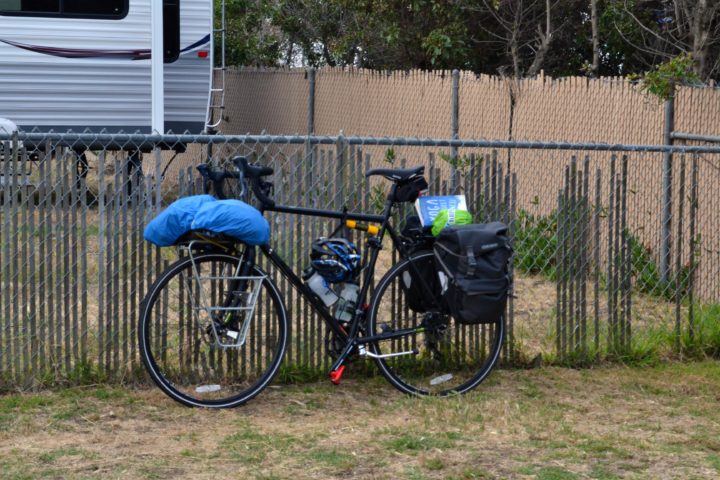 Night 7: Henninger Flats
Think 18% grade, 103-degree heat and dirt roads, and you have the setting for this mountain-top site in Los Angeles. I took the train up to Golden Saddle Cyclery this past weekend to join a group for the Swift Campout and had a great time drinking some beers and watching the city light up from 2,500 feet. I had enough of a good time that I forgot to take any pictures, except for this one. Needless to say, there won't be a post coming for that one.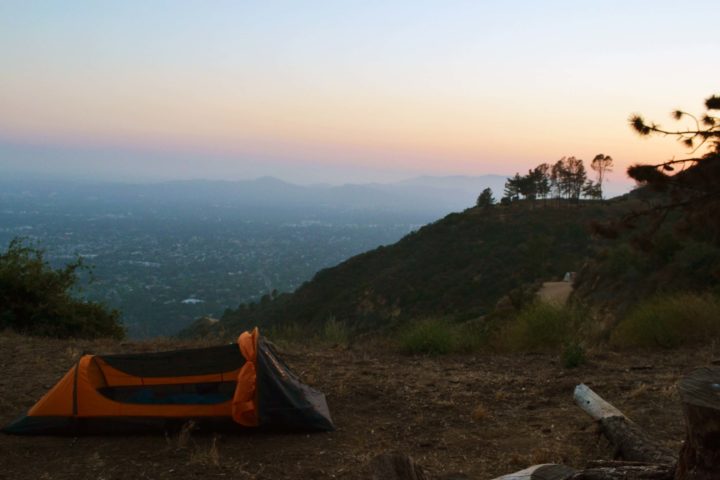 Night 8: Valley of Fire State Park
This was my first stop on my solo road trip half way across the U.S. – I was headed to Iowa for a bike ride and thought I'd enjoy myself along the way. Aptly named, neither the sunset nor the stunning red rock formations let me down. I pulled in right at sunset (a blistering 109 degrees) and the heat woke me up before sunrise, so I had plenty of time to do a couple short hikes and take in the scenery.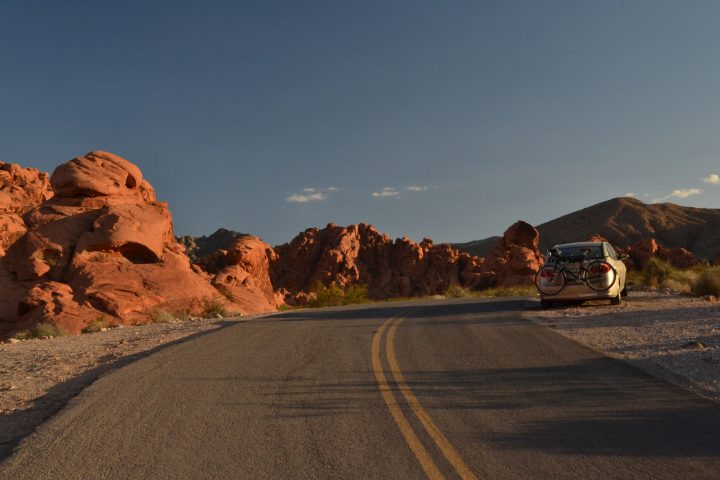 Night 9: Arches National Park
I have wanted to go to this place for as long as I can remember. I was literally giddy driving up the pass that led into the park. Yes, I was there to see Delicate Arch, just like everyone else. No, I hadn't reserved a campspot in advance. I ended up hiking up to the arch right as the sun dipped below the horizon and revealed this stunning show. The hours passed like minutes and I didn't even get back to my car until morning.
Night 10: Bryce Canyon National Park
Utah is a very special place. After taking on the Angel's Landing hike in Zion AND staying out all night under Delicate Arch the night before, I fell asleep before I even had time to eat dinner and blow up my air mattress. Unfortunately, I didn't get the time to visit much of the canyon, but after finding out they have horse trails, I know I'll definitely be back!
Night 11: Colorado KOA
This was my first-ever KOA experience and, after a week of sleeping in my car, sweaty campsites and even sweatier day hikes, the shower and in-tent wifi felt like a luxury.
---