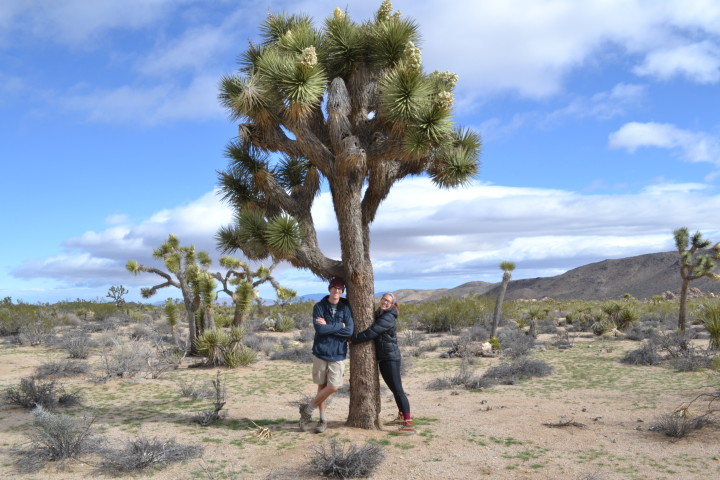 I recently found myself with a day to spare and an urge to explore the desert. So, I loaded up the car with my weekend gear and favorite friends, and we headed to Joshua Tree National Park to see what awaited us.
The adventure: hike to the highest peak of the Eagle Mountains.
Eagle Mountain is a solitary rock rising to an elevation of 5,350 ft – a stark contrast amidst the flat desert valley that surrounds it. We started at the Cottonwood campground, looked up toward the peak on the horizon, and started the 3-mile trek across the desert.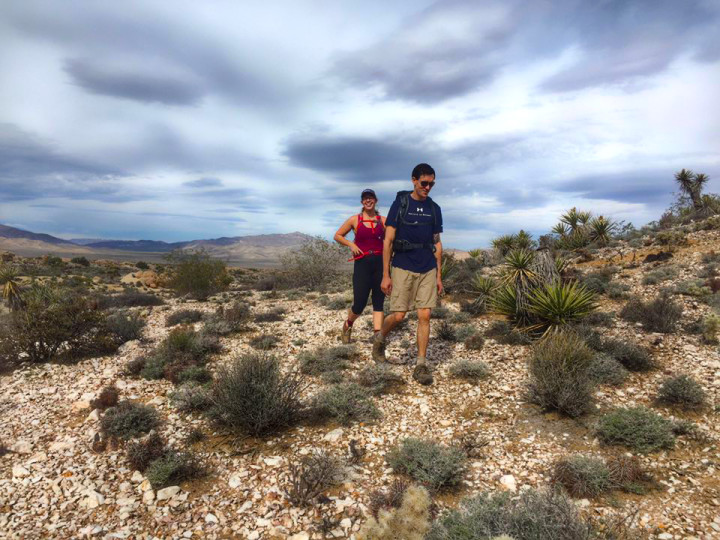 As the mountain grew larger, we began to feel smaller and the landscape changed from arid desert to prehistoric quartz formations – jutting out of the sand in dramatic colors and poses, as if to say "We've arrived!"
Before beginning the 2-hour ascent, we jokingly looked around each rock corner, heeding the concerned warning of my friend's mother to check for "desert bears" and watched our steps for a more-likely run in with a rattlesnake.
Maneuvering the pathless mountainside was a challenge that yielded maximum reward. Each step felt like I was traveling one foot further into uncharted territory – a modern-day frontierswoman stopped by nothing in her path.
Then, a quick glance back at the endless desert landscape took my breath away more than the climb itself.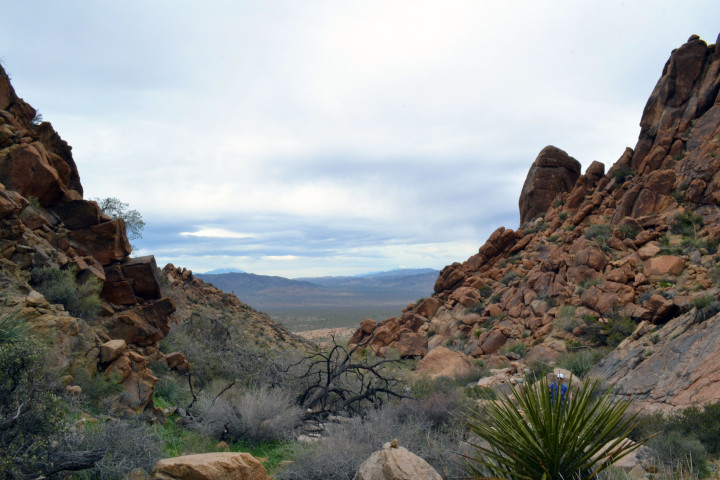 As we got closer to the top, we found a flat outcrop to take our lunch break and appreciate the views while refueling in order to continue the adventure.
It's wildly crazy to me how gourmet a banana and almond butter taste when you're sitting on top of the world.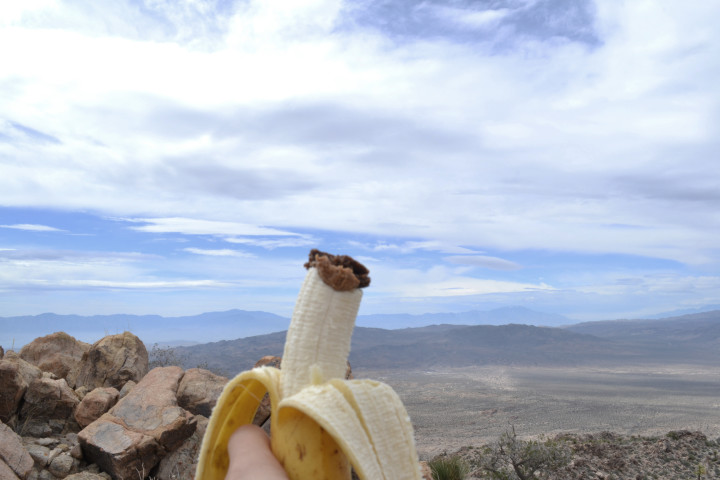 We then ventured on through a mountain-top valley to reach the true peak of Eagle Mountain, a breathtaking 5,350-foot high outlook that made feel a lot like Simba in The Lion King, as his father said, "everything the light touches is our kingdom."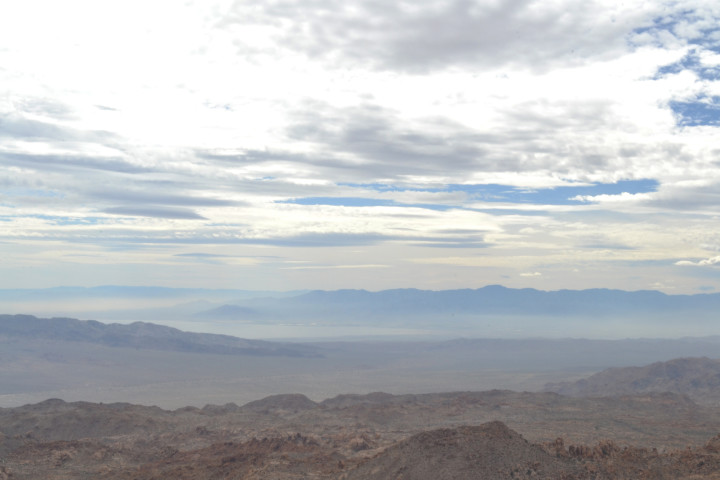 Except this wasn't our kingdom – we were merely visitors in the beautifully harsh desert that surrounded us. It could at the same time choose to sustain life or end it.
That's one thing that I love about being out in the wilderness, reconnecting with nature: The reminder and lesson that – in just one day or moment – I could go from predator to prey.
It seems like kind of a scary notion, but I don't think of it like that at all. Instead, for me, it's a reminder to take advantage of every last breath, every shared moment and to try my best to live in harmony with the world.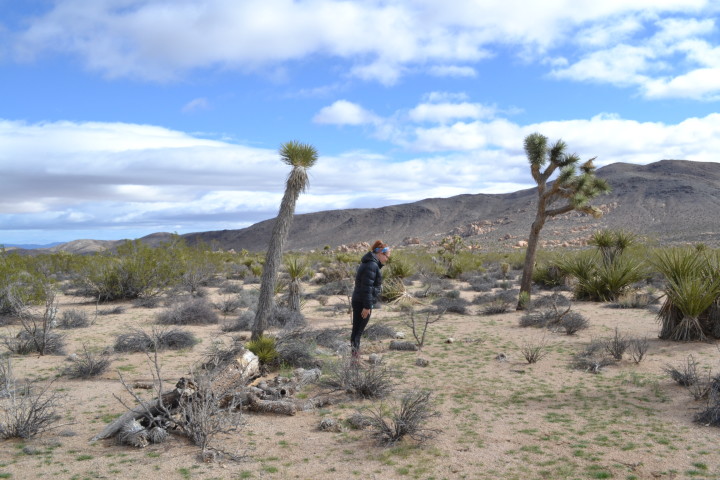 As we began our descent, we were continuously reminded of this lesson from nature: Not a single person made it down the mountain without shedding a little blood – be it from cholla run-ins, blisters from ill-fitting shoes or scrapes from our own miscalculated steps.
We left a little part of ourselves on that trip AND gave my new First Aid kit a workout on its christening hike.
Not wanting to be left out of the action, a sleepy rattlesnake slithered out of its hole after hearing our footsteps passing en route to our campground. Normally, I'd shrink away in fear at the sight of a snake.
But this was the first rattlesnake I'd ever seen in the wild and I felt stronger after climbing a mountain. So, I silently give him (or her) some space and continued on down the trail with a small boost of confidence in my step from overcoming my fear.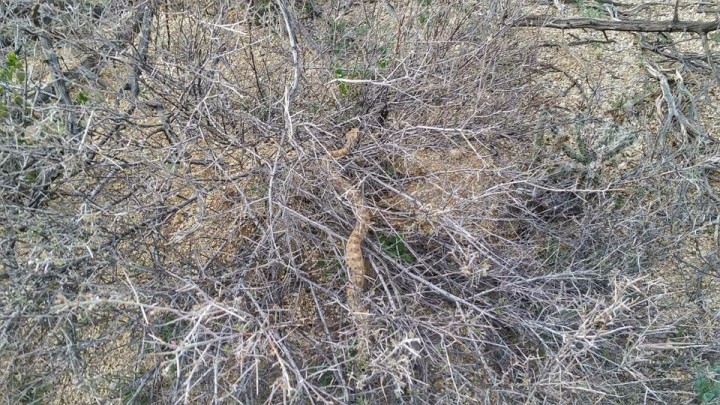 Scraped, bruised and with huge smiles on our faces, we staked down our tents and watched the moon rise as we challenged each other to a game of Scrabble, laughing about the day and sharing memories we'll forever cherish.
The only thing that was missing from the day was a desert bear.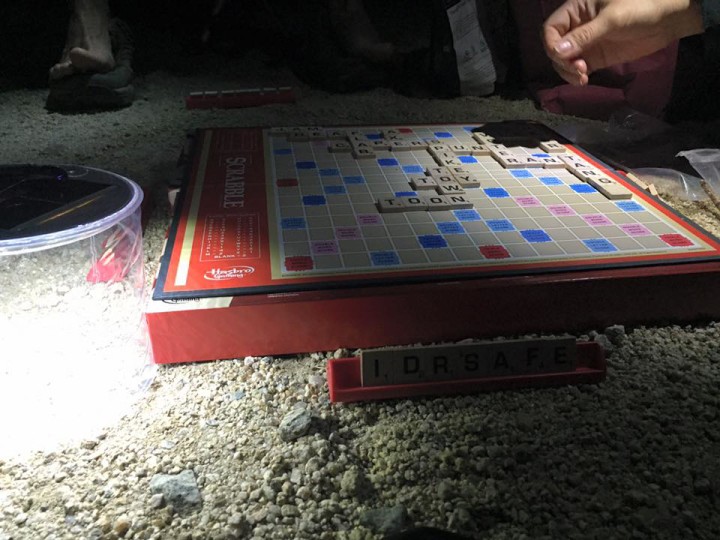 ---