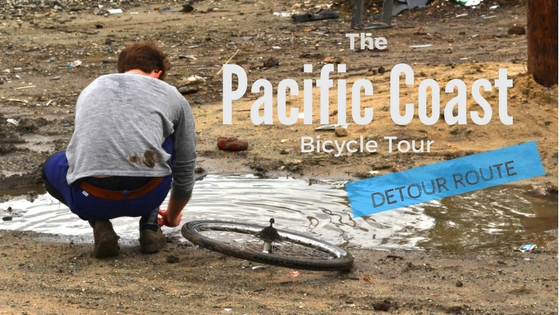 Categories
Routes
The Pacific Coast Inland Detour Bicycle Route
I've been getting a few route requests since my post about my misadventures on the Pacific Coast Highway. So, I thought I'd share the map.
For those of you who didn't catch it, my friends and I had the impeccable timing of being on a bicycle tour during the exact week that California decided to break its 10-year drought stint. Flash floods, mudslides, headwinds and detours were the theme of the trip. It even caused the eventual demise of the Big Sur bridge.
As of mid-May, parts of the Big Sur area were still closed, so I mapped our detour route for those who might be heading that way this summer. It ended up taking us through some winding backcountry roads and the amazing Paso Robles wine region (a recommended rest-day stop), making this one of my favorite tours to date.
Plus, a great thing about touring the Pacific Coast is that you can literally put in the destinations on Google Maps and follow the route on your phone. Since we were making things up as we went, that's exactly what we did. You'll see a couple of places where the route calls for riding on the expressway. It's probably possible to avoid doing this completely, but it is legal and it really helped us make up for some time that we lost further North.
I put the live, turn-by-turn directions for you here and here.
Now, someone save me from myself and tell me a better way to document bicycle routes.
San Francisco >> Dunes Beach (hike and bike at Half Moon Bay) >> Monterey Bay KOA >> Monterey Veteran's Park (hike and bike)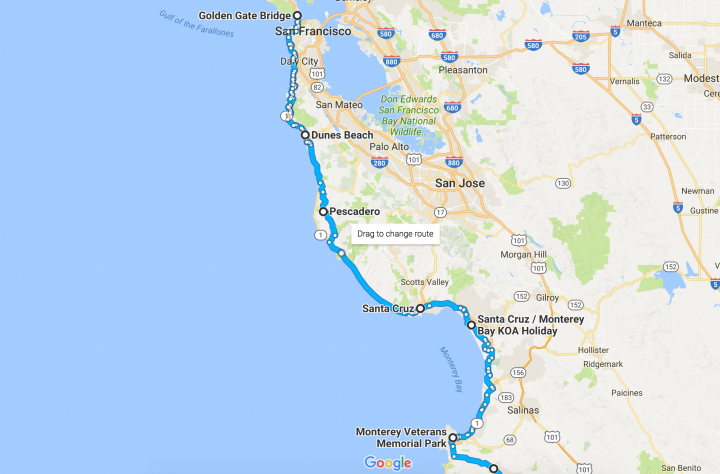 Because of the rain, the boys had an unintentional night in Pescadero while I got caught in Santa Cruz, but then we were off to the Monterey Bay KOA.  Another option here is Manresa State Park, a hike and bike for $2.
Veteran's Park doesn't show up on the California parks website, but they are hike and bike friendly for only $2/night as well.
Monterey Veteran's Memorial Park (hike and bike) >> King City >> Templeton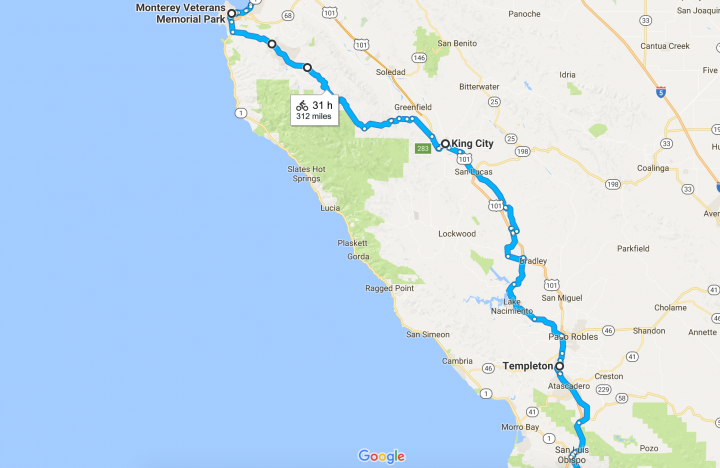 There is a camping ground in King City, but a Motel 8 cost the same and we found the welcoming home of two Warm Showers hosts in Templeton.
Templeton >> Oceano Dunes SVRA (hike and bike) >> Lompoc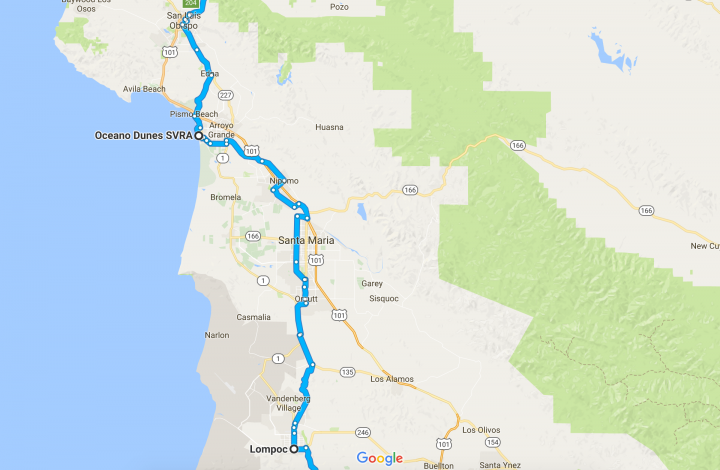 Oceano Dunes is also another town with a few options. The SVRA is actually an RV park with a small corner sectioned off for cyclists, but worked in a pinch for us. Beach front campsites are seasonal and fill up quickly.
In Lompoc, we found another Warm Showers host.
Lompoc >> Carpinteria State Beach (hike and bike)
Carpinteria State Beach (hike and bike) >> Leo Carrillo State Park (hike and bike)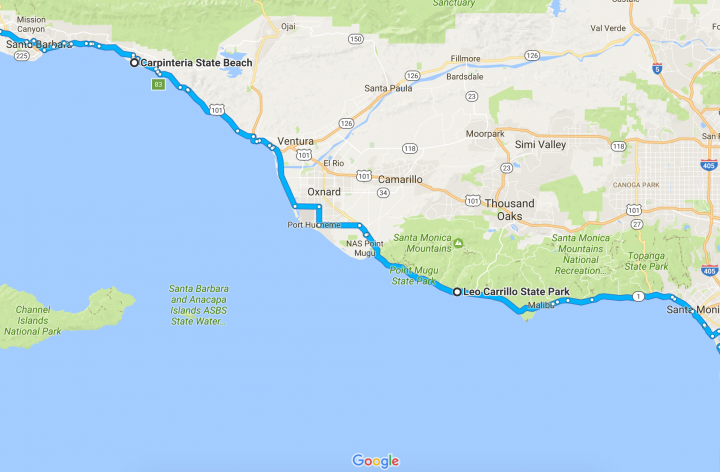 Leo Carrillo State Park (hike and bike) >> Long Beach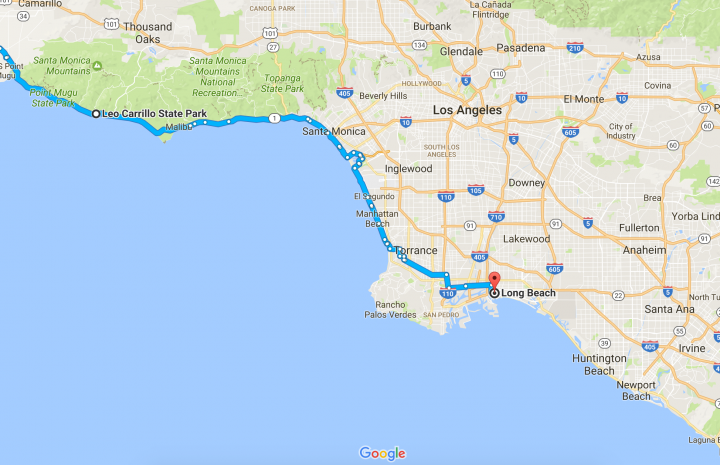 Let me know if you have any other questions about this route or if you find anything that seems off. I had to do a bit of memory recall for this one!
---