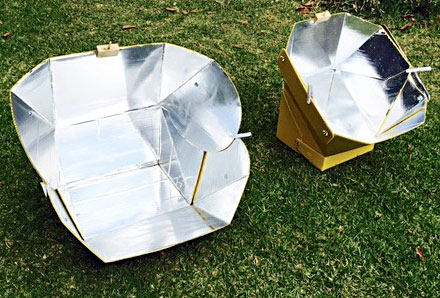 Categories
Camping
Sun-Powered Cooking for your Next Weekend Car Camp
A while back, I decided to check out a workshop on solar cooking, thinking I might pick up a thing or two for future bicycle and backpacking trips (I also shared this post, here).
In my head, I think I was picturing a camp stove powered by a solar panel – per many of the other gadgets I already carry in my backpack for weekends away. But what I saw shortly after arriving were three large, saucer-looking 'stoves' sitting in the center of the room that looked more like something you'd use to communicate with extraterrestrial life than to boil water for dinner. Needless to say, it's not exactly what I imagined, which was for the better because I probably wouldn't have gone to the event if I had known this was something that you definitely don't want to lug around on a bike.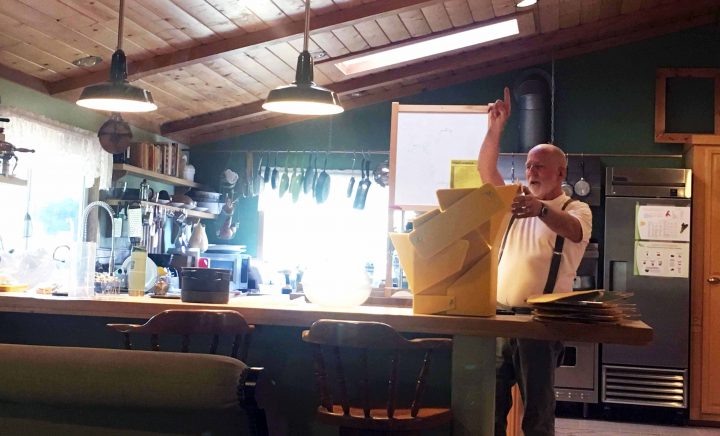 That being said, I thought I'd share it anyway, because it's perfect for car camping, is really fun to experiment with and has the added benefit of leaving absolutely no carbon footprint (an edition for my future life of living in an RV, perhaps?). Plus, Roger Haines, Inventor of the All Season Solar Cooker, was actually there to walk us through the basics of solar cooking (not to be mistaken for solar panel cooking, as I had learned) and shared the inspiration behind his invention. We spent some time after talking about our mutual love of camping and his experiences solar cooking on beach in Mexico.
P.S. sorry about the photo quality here – I didn't have the foresight to bring my camera and my phone just wasn't having it that day.
No batteries. No charging. Just the sun.
The idea behind a solar oven is quite simple: collect and funnel the sun's rays into a focal point, which can then be used to heat water, sauté veggies or even bake a cake. Many of them resemble a box or rectangular shape, with reflective wings jutting out to capture sunlight. But the key ingredient (haha puns) to great solar cooking, is understanding all the working parts that go into it – kind of like a math equation.
In addition to collecting light, proper absorption is needed to keep your cooking surface hot. Each cooker does this in its own way – be it a glass door, clear bag (note: one that won't melt) or glass bowls – and most people pair that with thin, dark cookware. Yes, your cast iron is great, but for this, you want to have as little critical mass as possible to heat up. I was told black stainless steel or an anodized pot is best.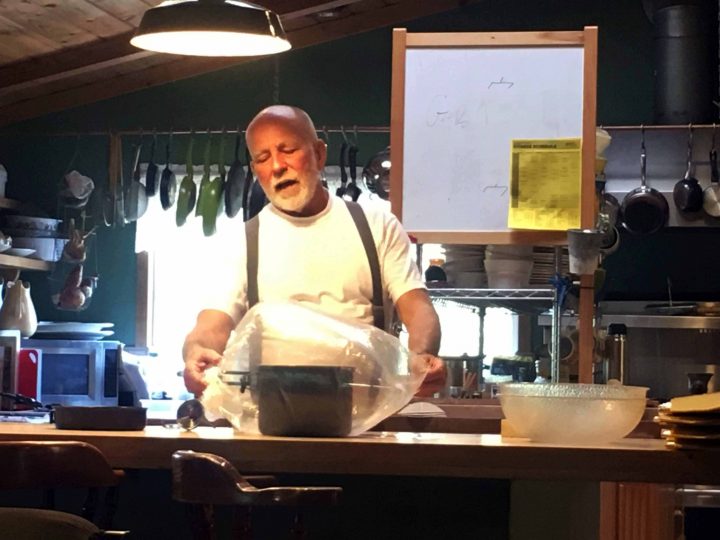 Then, you need to think about installation and durability, because investing in new gear just to have it break or – more likely in this case – melt is never the desired outcome. There is also just a convenience element. As someone who prides myself on my ability to quickly set up and tear down my camping set-up, some of these models looked like they involved a much too cumbersome set-up process. Finally, some cookers – like box cookers, looked like glorified cardboard. Seriously. Something that might work for some people, but would definitely not stand the test of time on my watch. I definitely don't baby my gear, so it needs to put up with some level of harsh treatment.
So, that brings me to the actual models. In buying a solar cooker there are four types to look at….
1. Parabolic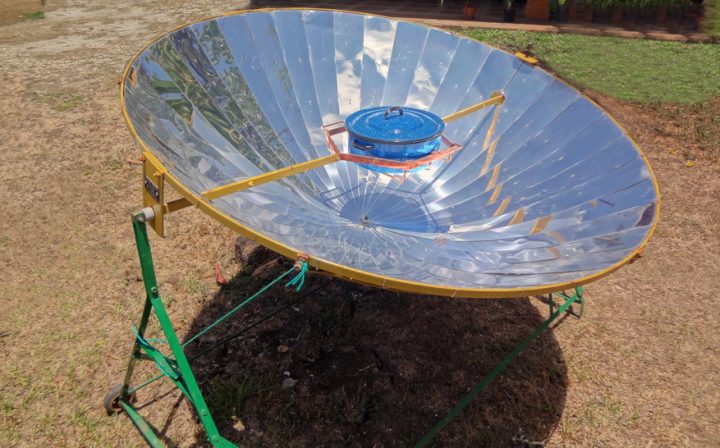 This is the oven that looks particularly like a flying saucer. Think: an upside down umbrella with aluminum foil covering the inside of it (fun fact: you can actually DIY your own solar cooker that way). They can reach a temp of 500 degrees in about the same time your oven would take to pre-heat, pretty much putting any concerns about your food not cooking at ease.
The downfall? A larger surface area of light bouncing off the gradual slope of the disc shape means a smaller focal point – requiring you to chase the sun across the sky as you reset the cooker hourly or more. They are reletively easy to adjust, but would mean that you can't venture away from your food for too long.
2. Box Cooker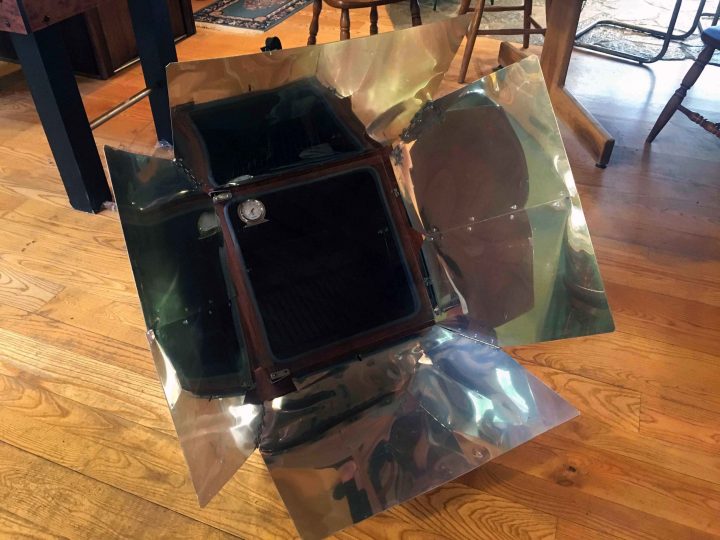 It's pretty much what sounds like – a black box with a glass door and four silver 'wings' sticking out from each side to collect the light. Reliably reaching 350 degrees means you won't burn your facial hair off if you get too close, but that your cornbread will taste juuuust right. While I think box cookers take up the largest space and look the heaviest, a clear benefit is being able to use any colored cookware. The interior walls of the box are painted black, so you can bring out any old pan from your kitchen and let the sun work its magic. No set-up time, no additional purchases required – if you have the storage space, this is definitely not a bad way to go.
3. Panel Cooker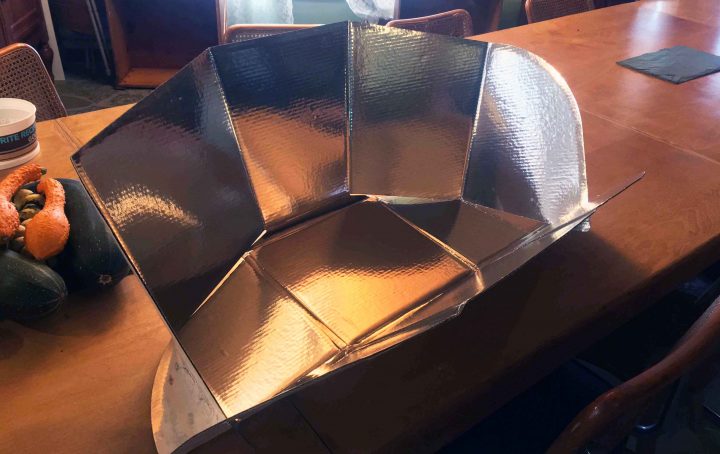 This is generally the simplest and most inexpensive version. It is comprised of several cardboard panels folded to make a rectangular shape in which you can set your pot (this is the one that I said looked like glorified cardboard). At 225 degrees, it is best compared to a slow-cooker and works best between 10 a.m. and 2 p.m. Something I learned about these? That they are increasingly being used in third world countries to help people without access to electricity get clean drinking water and warm food! Being easy to replicate, people can even make these out of pizza boxes and aluminum foil for a make-shift oven on the go or fun science experiment.
4. Hybrid Cooker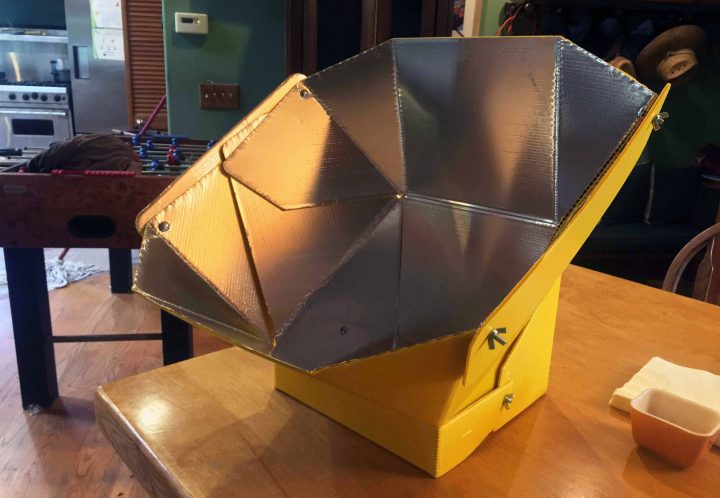 This cooker blends ideas from the box cookers (creating a box-shaped focal point that heats from all angles) and panel cookers (being built from a foldable material that can be moved with the sun). It is lighter than the box cookers and more durable than the panel cookers, making it a win in my book. Plus it's made right here in San Diego. The hybrid style cookers can reach up to 330 degrees and seems like it gets the job done in just about any setting.
Et voila! Cooking simplified. Normally, this sort of new tech gets me all excited and I impulsively buy, but I reined myself back. I think it would be fun to make the panel version out of a pizza box to take it for a test run. TBD on when that will happen, but maybe I'll take a trip out to the desert and give it a whirl.
What about any of you – ever use a solar cooker?
---