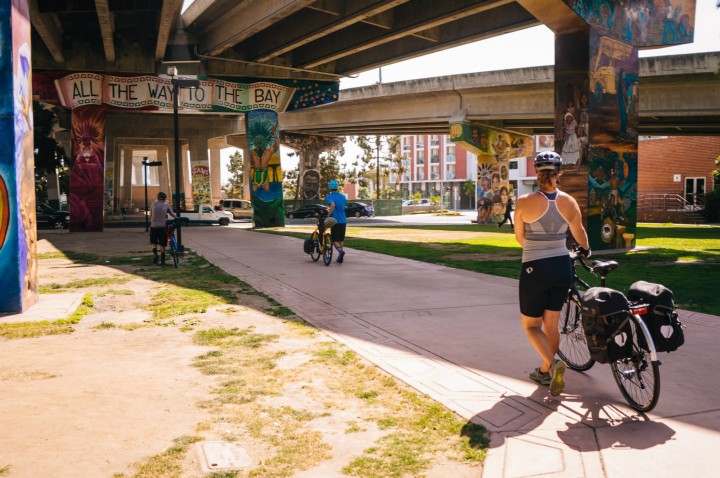 At the turn of the New Year, I declared 2016 the year of 'doing.' Of approaching life with a no hands-barred attitude. Instead of just talking about some great adventures, I'd be the one out there breathing the fresh air, playing in the mud and watching sunsets the right way (that's from a tent, in case you didn't know).
So, I started with my list of great cycling adventures to take this year and began planning for some amazing rides. But then, I remembered Alastair Humphreys and his idea of the microadventure, and I decided it's ok to start a little smaller.
Besides, when you're in a place like San Diego, it'd be a shame to not to take advantage of the year-round cycling weather. So, I thought back to a recent urban bikepacking trip I took and thought that would be a great place to start for some inspiration:
Thanks to the power of the internet, it took a whole 30 minutes to connect with a couple cyclists on Meetup and plan our overnight trek to Sweetwater Summit Regional Park. Knowing I'd only be gone for one night (and knowing that the SoCal weather wouldn't disappoint), I just packed one bag with my tent and sleeping mat and hopped on my bike.
My new friends and I swapped hellos at the harbor and got on our bicycles for a 16-mile afternoon ride through time. First, we pedaled past the Historic Gaslamp, with it's cobbled streets and neon lights – waiting for sunset before springing back to life for the tourists and partygoers. Then, we grabbed ourselves some coffee just outside of Chicano Park, where we shared gear advice and enjoyed the colorful paintings that detailed the history of the vibrant park and community.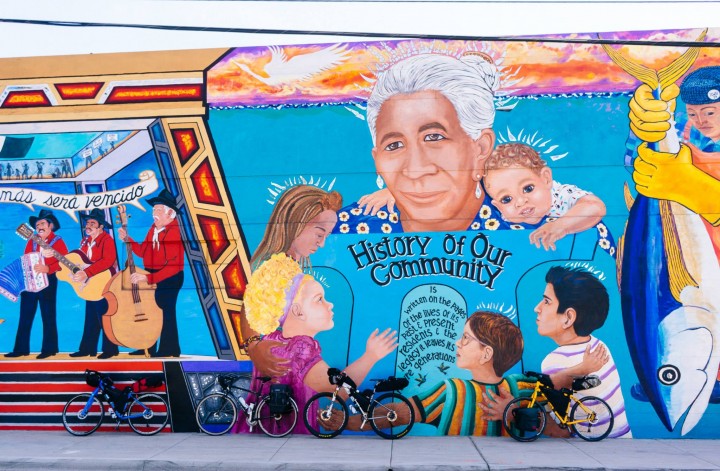 We stopped for plenty of photos (a requirement for me on any trip I take), and I wondered how I could have driven past all of these amazing places without ever noticing before. I mean, a giant, colorful wall mural? C'mon.
As the afternoon heat sat in, we said goodbye to pavement and turned down a dusty running trail that weaved around cacti and dipped below the largest palms I have ever seen. It was pure joy being just far enough from major roads so that the sound of birds chirping and trail horses snorting – not honking horns – became the background noise. One quick climb (I'll admit, I had to walk my bike), and we found our campsite perched on the edge of a hill overlooking the valley just as the sun began to set.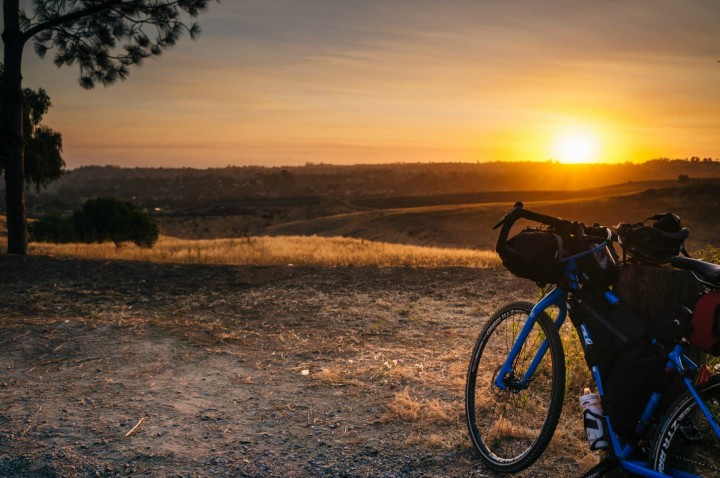 Because I recently bought all of my camp gear, this was a great chance to test-drive my sleeping set-up with little risk and see what the others had packed in their own respective panniers.
Another great thing about this excursion was that, even though we were able to escape far enough from the hustle and bustle of city life, we were still close enough to some pretty amazing Mexican food. So we opted for another San Diego staple – tacos and IPAs – instead of the camp food we had originally packed.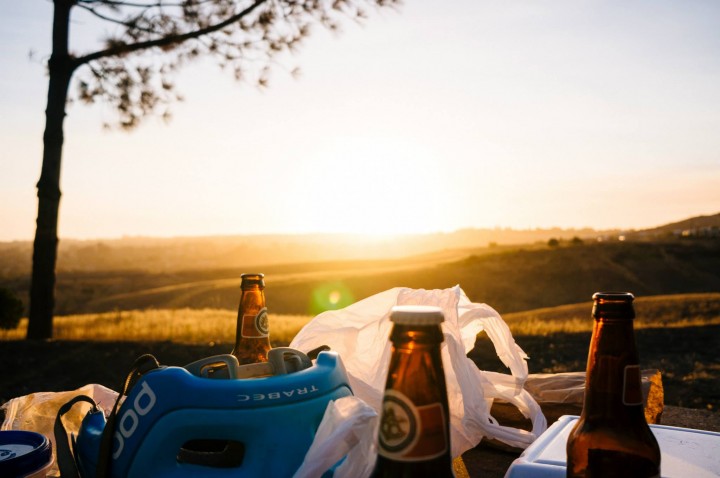 No shame. There is very little that beats a nice cold camp beer and a breathtaking sunset, after a day spent pedaling. Don't you agree?
As I feel asleep, I couldn't help but feel the delayed gratification of having spent so many hours picking out just the right tent (my first official adventure gear purchase last year). There I was: comfy, happy, and living my city to the fullest.
I woke up as the sun was rising and found the area hushed from the night silence still. I took advantage of the quiet to journal, take a walk and stretch, reveling in how much fun a little micro-vacation can really pack.
On the way home, we decided to take the long way around (about 25 miles) and go past the salt mines to Silver Strand and then on to Coronado Island. A pretty popular route with runners and cyclists, it was great fun and a change of scenery as we went from palm forest, to desert and back to ocean.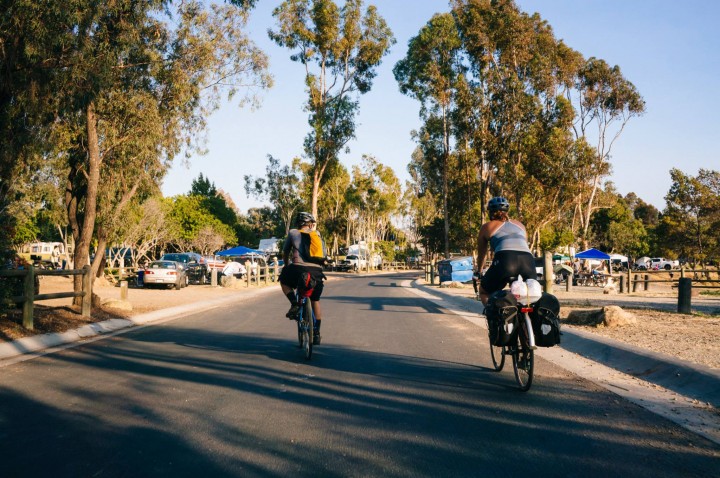 With the sound of crashing waves in our ears once more, we parted ways at Hotel Del, each of us traveling home after a productive weekend spent cycling. We began strangers and left friends; we got to know our city a little better; and we got in an awesome adventure – right here in San Diego.
What's great about a little urban camping, is that it encourages spontaneity in every way. There aren't any big plans to schedule, no vacation days to pencil in and no strenuous exercises to train for. It's a fly by the seat of your pants-style exploration (but under the safety net of knowing you are never too far from home) that brings out the best in you as a traveler.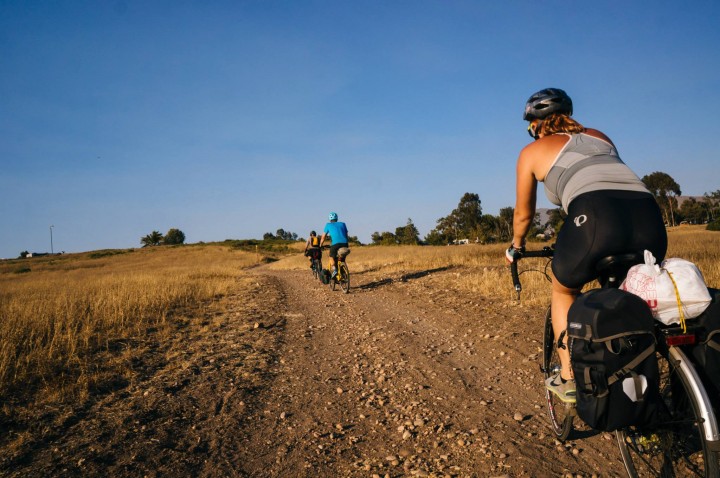 So, are you up to the microadventure challenge this weekend?
Grab a tent; Pick a hill, forest – or heck, your own back yard – and enjoy the weekend outside! And, if you want to do this Coronado Island/Bonita trip, here's our route. As you can see, nothing too challenging, but just far enough to have a great time:
---