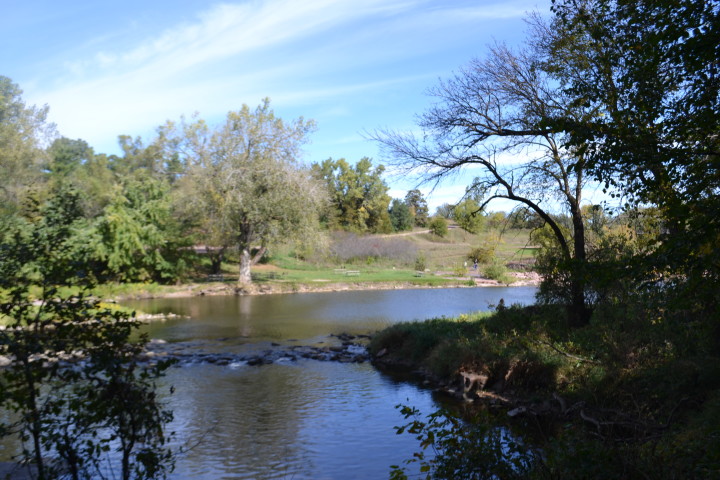 Today is Thursday – Throwback Thursday (insert eye roll if you will) – so I thought I'd share a little gem about how I got into this life of travel and adventure sports. It was the day I decided to run away from home and what I believe to be the event that sparked my desire to see the world:
It all began when I was about 7 years old. I was going to gather all of my things, stock up on food and then set out for the small line of trees that was neighboring our farm's property line.
Why? Because I wanted adventure.
I wanted freedom (from whatever constraints that a 7-year-old might have). At such a young age, I already knew the importance of minimalism, so I'd take only what I could carry in my backpack, I'd find a tree, and that's where I'd live out my years.
Like a little tree gnome or neighborhood troll, or something.
But this plan that I concocted as a child wasn't spontaneous – I had a calculated plan. Growing up in Nebraska, I knew the winters would be harsh, so I'd go in the late spring and have plenty of time to build a home before the cold weather set in. When supplies ran low, I'd sneak into my parent's house for the food and clothes I needed.
I practiced crawling out of my second story window until the process was well-refined – a skill that didn't lend to my dreams of adventurous travels, but one that did come in handy when I was a teenager (to this day, I have some pretty impressive stealth skills, when needed).
And with each careful practice step out my window, that's how my plan came to be.
The day I decided to evict myself permanently from the lives of my loved ones, I woke up early, packed my bag and wrote a very dramatic letter. It detailed my desire for 'something more' a wish to do away with the 'prison of money' because 'I want to live free.'
I'm very serious.
As you can see, I've always been the brooding, writerly type.
By the time I made the quarter mile trek to the corner of my gravel road, I realized something I had forgotten – something that had completely slipped my mind amongst all the planning and practicing: my horse. My poor Freckles! How could I leave him behind? Without me, surely my parents would forget to feed him. And I hadn't remembered to highlight his food rations and treat preferences in my letter!
I decided I would go back for him – I had to – but just not today. That would be my first trip back to get the things I need. Although it would require a new level of stealth to sneak away with a 1,200-pound pony unnoticed.
That first day, as the sun began to set and it began to sink in how unprepared I actually was, the lunacy of my plan struck me. I weighed the pros and cons in my mind – proud that I had come so far, but already missing the comforts of my bed. Right there on a gravel road continuing on as far as the eye can see, I made my very first real estate decision to not move in. Nope, not today world – the forest will have to find a new tenant because I'm not your girl!
I didn't quite run away to a life of endless adventure like I had pictured in my head. But, from that point on, it changed the way I looked at places. I began looking at places as if I might one day live there, not just stop by for a week of vacation time. I wanted to (and still do) know how people might live there – how I might live there – and what little eccentricities make day to day living unique in that place.
I guess that's why I'm even sharing this silly little story – to give you a glimpse of where I came from, how I think about the world. And I guess as an answer to the question some of my friends and family ask: "Where did this (my love of nature, my desire to live homeless on a bicycle as I pedal across continents…) come from?"
From my heart. My desire deep inside to see the world and live a little unconventionally. Those thoughts that bubble up to the surface that says, "say yes" when the opportunity to travel to a new place or a see a new culture arises.
And now, I'm just answering it.
As I sit here today, almost 20 years later, I realize that my journey began a long time ago – long before I studied abroad in college, or bought my first bike, or trekked into the backcountry for the first time. I've always been a dreamer and I guess you could say that I've always been looking for that perfect adventure.
Anyway, in case you were wondering, that first day ended in the comfort of my own bed: I was home by dinner, my parents none the wiser to all of the life-altering decisions I had been making earlier that day.
But there's still that little 7-year-old in me who has a twinge to explore and an inclination to sleep under the stars as much as possible
---